Through our programs and public outreach efforts,
Laguna Greenbelt Inc. seeks to promote appreciation of local wilderness areas, and to inspire new generations of wildlife stewards and advocates.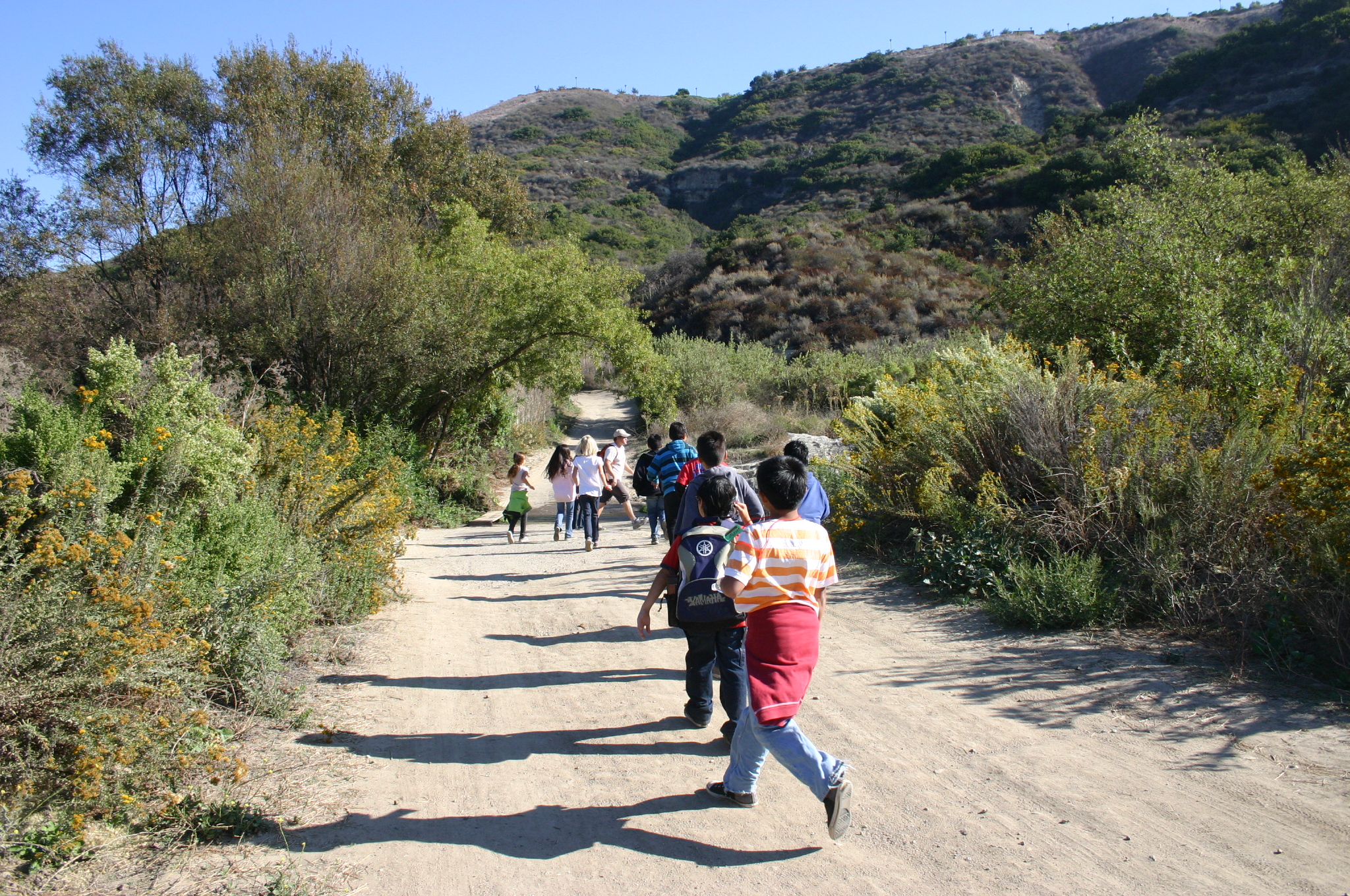 The following programs are featured below:
Environmental Education Grants
Each year, the Education Committee of the Laguna Greenbelt Inc. provides environmental mini-grants for teachers in the Laguna Beach Unified School District. These grants are used for field trips and projects that promote awareness and appreciation for our local environment. In a typical year, 15-20 teachers receive grants that help them create programs for hundreds of Laguna's children.
Past field trips have taken advantage of education programs at the Nix Nature Center, Crystal Cove State Park, and the Environmental Nature Center. Teachers have also created a wide range of hands-on and learning activities, such as: after-school ecology clubs, installing boxes for bats and owls, growing native plants and bee/butterfly host plants, and wildlife photography. Students have learned about Native Americans in Laguna Canyon, and native plants versus water-thirsty plants.
"Thank you for providing our second graders with a meaningful and informative field trip to the Nix Nature Center. It was a great experience and the children learned so very much about their own 'backyard'."
"Thank you so much for your generous grant. It allowed the second graders at El Morro to attend a series of educational lessons prepared by Ranger Winter. (Winter Bonin is a local state park ranger.) We believe these topics help our children become more environmentally conscious and aware of their impact on the earth."
LBHS Scholarships
To encourage future environmental leaders, the Education Committee awards an annual scholarship to a worthy senior at Laguna Beach High School who has demonstrated involvement and leadership in environmental activities, and who wishes to pursue these interests further through education. Some students have made a difference by initiating environmental programs at the high school; others have done international work.
In recent years, the scholarship has been in the range of $1,000-$3,000. When the Education Committee has found more than one exceptional candidate, they have awarded two or even three scholarships in a single year.
Applicants submit a short essay and references describing their involvement in extracurricular environmental activities, and how their environmental concerns are connected to their future education plans. The Education Committee may interview applicants. Financial need is not a requirement, but may be considered.
Want to support our education programs?
Greenbelt board member Patricia Twitty has chaired the Education Committee since 2000. Thank you to our members and the Schlinger Foundation for generously supporting the committee's Environmental Mini-Grants and the Greenbelt LBHS Scholarships. Your donation today can be earmarked for Education Committee programs.
Events
Two regular events gather Laguna Greenbelt Inc. members and friends together to celebrate and learn about our local wilderness areas.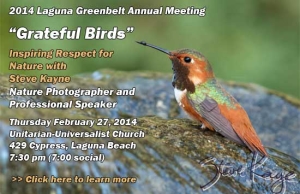 At the
Annual Meeting
, typically held in February, Greenbelt members elect directors to the board and approve the proposed budget in a short business session before a presentation. Past meetings have featured talks on the Laguna Canyon Creek Restoration Plan, bird photography, historic plein air paintings, and why downtown Laguna is likely to flood more often due to environmental changes.
The Dilley Dinner is now held every other year in partnership with the Laguna Canyon Conservancy to celebrate the memory and ongoing legacy of Greenbelt founder Jim Dilley. The event, typically held in the fall, is a social evening that includes a presentation related to local conservation history.
Guides and Brochures
The Greenbelt has written and coordinated the publication of educational guides and brochures, including:
Back Pocket Field Guide: An Introduction to Orange County Wildlands, which really does fit into a back pocket. It is designed to help people understand what kind of habitats they are seeing on the trail, and learn about animals and plants that live there. It is available at Nix Nature Center, Sea and Sage Audubon Bookstore at the San Joaquin Marsh, and the Saddleback College Bookstore.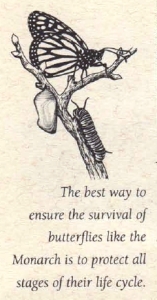 Living on the Edge is a set of brochures that provide advice for people in neighborhoods adjacent to wilderness areas, to advise them on being good neighbors to wildlife while taking precautions for themselves, their pets, and their property. The brochures are available for download below. Please note that some of the contacts and park access details are out of date, but the rest of the content is still relevant!
Naturalist Class
Naturalist training for those wishing to lead interpretive tours, or to deepen their understanding of local ecology, is offered annually in an 8-week class at Saddleback College in the Environmental Studies Department.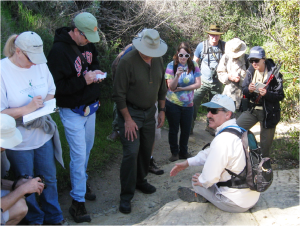 This course has been taught since 1992, when board president Dr. Elisabeth Brown launched it to train docents in anticipation of the Laguna Coast Wilderness Park opening in 1993. It includes evening seminars and weekend field trips taught by some of our most dedicated and talented scientists and naturalists. Topics include animals, plants, and geology in Orange County's natural areas, as well as how people used these places in the past.
To take the course, students must go through a brief application process at Saddleback and pay an enrollment fee. Call Saddleback College Admissions at 949-582-4555 and ask about Environmental Studies 200, Naturalist Training.
Park Programs
Most public access and stewardship programs in Laguna Coast Wilderness Park that were launched and run by Laguna Greenbelt, Inc. have been transferred to the Laguna Canyon Foundation or to park naturalist staff for long-term management.
These programs included:
The Laguna Coast Wilderness Park public access program, including naturalist-led tours and trail brochures for self-guided hikes. (Naturalists are still trained in the Saddleback class described above.)
The volunteer-run Native Plant Nursery that grows plants for restoration efforts in the park.
Stewardship Days for volunteer work in the park, including trail restoration.