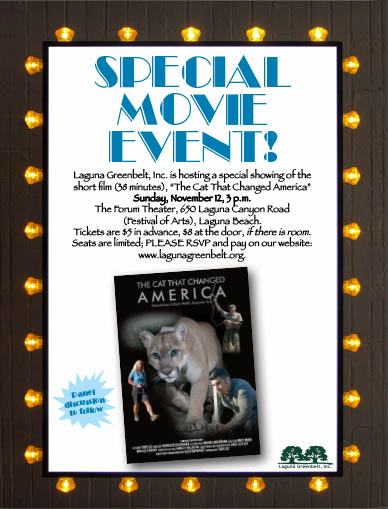 FEATURED EVENT

–  Join us! Sunday November 12 3-6pm
Laguna Greenbelt, Inc. is pleased to show the documentary:
"The Cat That Changed America"
A documentary about an extraordinary and inspirational mountain lion coexisting with people in urban Los Angeles.
We will also have some local wildlife experts discuss how we can better coexist with our local wildlife. This is a family-friendly event. More details to come.
View Trailer at: https://thecatthatchangedamerica.com/trailer/
Please join Laguna Greenbelt for The Cat That Changed America. This short documentary film features P22, the most famous mountain lion in the world, and the humans that are his neighbors in urban Los Angeles. A panel discussion will follow the film, and will include folks from Poison Free Malibu (featured in the film), Beth Pratt Bergstrom (featured in the film), Dr. Elisabeth Brown (Laguna Greenbelt), and a few other local wildlife celebrities.
***REGISTER NOW – go to registration page: (Click Here)
Please bring your confirmation to the door. Thank you. LGB
Location/Venue:   Forum Theater Laguna | Festival of Arts
Laguna Greenbelt, Inc.
is a grassroots organization that has worked ceaselessly to protect wildlife habitat in Orange County since 1968. Our founder, Jim Dilley, sought to preserve a "greenbelt" of open space around Laguna Beach. We led efforts to preserve a coastal wilderness area that is now almost four times the size that Dilley envisioned—22,000 beautiful acres. Today we continue to defend this iconic landscape for the sake of its wild inhabitants and the people who love it.