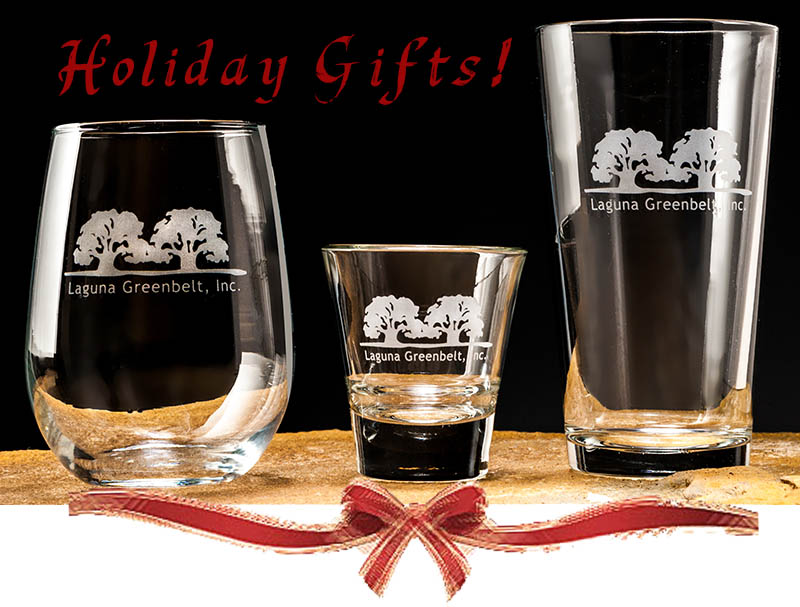 Holiday Suggested Donation for Gift-Giving

All donations support  the Laguna Greenbelt.
Suggested Donation
$8.00 each glass or sets of four same styles only $28.00
All three styles in sets of four: $80.00 (that's two glasses free)
1) Stemless Wine Glass (left) 17 oz.
2) Espresso / Desert / Shot Glass (middle)  3.7 oz.
3) Beverage Glass (right) 16 oz.

Limited Edition  (additional engravings not determined)
Delivery in Laguna free until Dec.21st
Delivery outside Laguna $15 until Dec. 21st
All Glasses remaining available at LCC Dinner Jan 8th or Feb 5th
Call Harry Huggins 949-400-5221
Laguna Greenbelt, Inc.
is a grassroots organization that has worked ceaselessly to protect wildlife habitat in Orange County since 1968. Our founder, Jim Dilley, sought to preserve a "greenbelt" of open space around Laguna Beach. We led efforts to preserve a coastal wilderness area that is now almost four times the size that Dilley envisioned—22,000 beautiful acres. Today we continue to defend this iconic landscape for the sake of its wild inhabitants and the people who love it.